Travelscoot for sale
Travelscoot for sale. Here are details of a Travelscoot that is for sale. It looks to be in very good condition, virtually as new. Battery is included, it is the latest model and there is a reverse gear. The details of the Travelscoot for sale is as as follows.
Travelscoot for sale
My mother bought the scooter in July 2013. She only used it when on holiday.
It was used in the UK for only two or three trips when a car was not suitable, e.g. on the clifftop promenade. It was never used as the main method of transport. She could drive a car right up until she became house bound because of cancer.
The Travelscoot went  as luggage to Tenerife by air for a family holiday. The captain of the flight checked the battery, so it's safe for air-travel. In Tenerife my mother used it on the promenade on three occasions. It is almost as good as new, in total it has done less than 50 miles!
My mother, the owner, became house bound in late June 2014, and died in September of the same year. You can see the very excellent condition of the scooter from the photographs, it is practically brand new.
Battery has been fully charged, works and holds charge. The tread on the tyre gives an indication of the condition of the Travelscoot.
Travelscoots are very rarely offered for resale and they do hold their value. This is a very good indication and it shows how popular they are with their owners. It provides independence when your mobility is restricted and folds up to the size of a large golf bag. This one is in exceptionally good condition
Location
The Travelscoot is in Broadstairs, E Kent. The owner will deliver it within a 60 or 70 mile radius.
This is an opportunity to purchase a Travelscoot in England and it is effectively new.
Contact details
To find out more about this Travelscoot including the price please email Lesley and use the email address laird@btinternet.com.
Associated articles
My New Travelscoot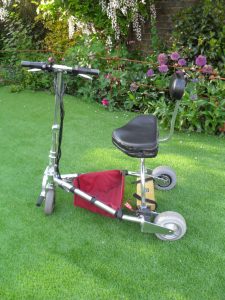 11 responses to "Travelscoot for sale"