A sponsored walkathon by me with my MS
Last year I challenged myself to keep walking for one hour. I did that in September. Then I set myself a challenge for 2021. Complete 25 walks each month of the year each one at least 500 metres. I managed 25 walks in January, on target. Snow, wind, rain and frost totally ruined my plans for February. Slight change of plan, I am now doing a sponsored walkathon, 200 walks in the next 8 months.
Sponsored walkathon with MS
At first glance this new plan does not sound terribly ambitious. Just walk at least 500 metres 200 times in eight months. What have I got to complain about? First of all my unpredictable companion called MS has a habit of getting in the way. It's not too fond of chilly wet days and it positively hates hot days. On the plus side the days are getting longer.
Procrastinate, obfuscate or any excuse
If I can find any reason not to do something then I will always grab it with both hands. The flimsiest of an excuse is quite enough for me to defer a job until tomorrow. I know full well the personal benefits I gain from these short walks; its called well being. Its the #2021Walkathon
That old chestnut
The idea of chalking off 200 walks in the next 8 months is like writing off the year when it is only two months old. I had to think of a way to manage the problem and it reminded me of a very old joke.
Question "How do you eat an elephant?"
Answer "One mouthful at a time"
Using this approach, 25 walks a month makes the whole process less daunting and more manageable.
My resolution for this year
The very fact that I am telling you about this challenge is placing a sense of responsibility on my shoulders. Each individual walk is no big deal and I know how good I will feel come the end of October. I don't anticipate many distractions. Lockdown won't go away in a hurry, continental holidays are very unlikely this year. WFH is with us until the summer.
Wellbeing
Getting out of the house each day always makes me good. I feel even better when I get back indoors after each walk, call it an inner glow of self satisfaction. It is not from the exertion, 500 m in 35 minutes is not exactly tiring. Instead I have mentally challenged myself. Yup, I always feel better after the walk. Repeating this walk at least 25 times a month for 8 months will be a real test of my own  endurance test
Why do it?
That's a question I ask myself every day.
I need a goal, a reason to get out of bed in the morning.
I'm going to be raising money for the Chilterns MS Therapy Centre. Trust me, it is an amazing place.
I will only promote it using social media, radio and word of mouth, no begging emails.
So that's the year planned
So its a sponsored walkathon with MS for me this year. 🙂 Easy peasy lemon squeasy. At least 25 walks a month for the next 8 months. A simple resolution for this year. I will tell you how its going. Just watch this space.
Related articles
The day I walk for one hour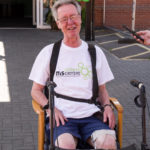 .
.
.
.
.
Yes I Agree, Exercise is Good For MS Sufferers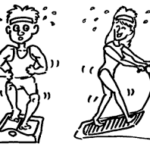 ,
,
,
,
,
March 2021