OXO Good Grips POP Containers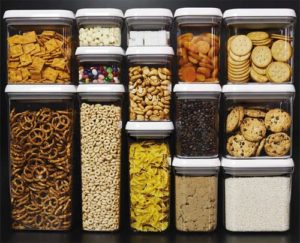 OXO Good Grips kitchen products are well designed items to use in the kitchen. The OXO Good Grips POP Containers is another excellent example. Even better they really do make life easier for people especially those with physical disabilities. Why is it always a struggle to get the lid onto so many airtight plastic boxes? Then it can be difficult to get the lid off as well.
OXO Good Grips POP Containers
Take a look at the typical plastic box. It isn't square, there is quite a large rim round the edge to provide an airtight seal and this takes up space when you store them side by side. Think how much space is wasted when they are in the fridge or cupboard.
The big advantage with these boxes is the unique pop-up mechanism. Push the button down to create a seal or break the seal. This creates an airtight seal with one touch. The button serves as a  handle so it is easy to remove the lid with one hand.
Problems with typical storage box
Take the average plastic box and try to open or close it using only one hand or imagine doing it if you have poor coordination. The same problem would exist if your hands or wrists are weak because of arthritis.
The boxes come in a variety of sizes from as little as o.3 litre up to over 5 litres.  This is a simple and effective solution to keeping your food fresh and your kitchen organized.
No good quality plastic box is going to be cheap. Storing a quantity of empty POP containers in a cupboard waiting to be used will be quite space consuming.
Customer Comments
Press on the 'pop' mechanism and it comes up and releases the seal meaning the lid can easily be lifted off.
Good and robust
I have started buying these containers as I have arthritis in my thumbs
So good to see some well designed for a physically challenged person
Click OXO Good Grips POP Containers and buy from the full range of 12 different OXO Good Grips POP Containers.
July 2016
2 responses to "OXO Good Grips POP Containers"