Video; the MS Mile and the final installment
I will now stop banging on about the MS Mile. This will be the final installment.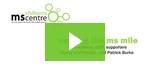 Yup, For the week before the walk it took over my life but I really did enjoy taking part. The training was hard work,in fact it was a real slog. The walk of one mile took me an hour. At the finish I knew I could not walk another step. I felt a sense of euphoria. I was glad it was over. Most of all I felt a real sense of achievement.
So OK I did not manage to walk the whole distance. Are you surprised? Look at my walking at the end of the video. The muscle fatigue was making the whole process of putting one foot in front of another very difficult. Crossing the finishing line made me feel 10 feet tall. When was the last time you felt that good?
I also raised £1,500 in sponsorship money. I though that was a very good achievement
What is most important is that it has spurred me on to take regular exercise. Maybe I only walk 400 – 500 metres each time. That is a lot more than I used to do and I'm doing it 3 or 4 times a week. The real bonus is I feel so much better both physically and mentally.