Assessment for my PIP benefits
A week after my face-to-face assessment I phoned up the DWP and requested a copy of the assessor's report. I was told to expect it within 7 to 10 working days. Two weeks later I received a letter from the DWP which said they now had enough information to be able to make a decision but no sign of the Assessment for my PIP benefits report.
"Umm" I thought to myself, they need a reminder. Three days later it arrived.
Assessment for my PIP benefits
It is a 20 page report and divided into three sections.
The first section, 'Functional  history'
This is a precis of my answers to the PIP form that I had completed. The assessors version of my answers made me realise that I had not placed sufficient emphasis upon my disabilities and what I am not able to do reliably, safely and repeatedly.
Answering the questions stating what I cannot do on a bad day is counter intuitive. I don't dwell on my disabilities instead I will always try to make my life as normal as possible. I almost never think "Damn I can't do that anymore". Instead I pride myself on what I can still achieve.
The second section, 'Observations'
What the assessor noticed about me, my responses and behaviour during the interview. I reckon an awful lot hinges on this. There were one or two phrases that rang alarm bells as I read through the report
'No evidence of cognitive impairment'. How did she come to this conclusion?
'Sat down and stood up using chair and table for support' would indicate that my balance and motor control are not very good.
'Transfered from trike to wheelchair independently'. Yes I can get on and off The Trike on my own but it requires my full concentration and a lot of practice. So why not add 'but carefully'?
Do these last two statements made by the assessor contradict each other?
The third section, 'Health Professionals Opinion'
This is the crunch bit. DWP award a score showing level of disability for 12 different activities. The points determine the benefits I will receive.
How can a person's disability be assessed accurately just by looking at the ability to complete 12 activities?
I think the assessor did a reasonable job in assessing my disability. I think MS is difficult to assess because of hidden disabilities. My school report frequently showed 'he needs to pay more attention to detail'. I think I would say the same about the assessor.
There are crucial aspects that the new benefits system conveniently sidesteps. It evaluates my disability using crude and simplistic methods but it does not consider 'Quality of Life' and how it has affected my life.
I would recommend that you contact CAB when completing your PIP questionnaire. The person I visited was incredibly helpful so please check this document.
Conclusion
The answers given by the health professional  provide sufficient points for my PIP benefits to mirror exactly my DLA benefits Obviously I must wait for the final decision from the DWP. This should arrive within the next couple of weeks. My fingers, legs and toes are crossed.
Associated articles
Multiple sclerosis is a form of dementia
.
Railway stations, access for disabled travellers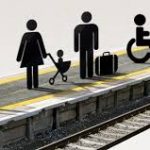 .
.
.
.
.
August 2018
5 responses to "Assessment for my PIP benefits"