My Mobility And Balance
MS does affect my mobility. I cannot run. hop, skip or jump. Even walking is a challenge.
My left leg is very weak. I have drop foot, drop leg and a hyper extending knee. Going up and down stairs is a challenge. Another problem is my balance. My balance is totally visual, so if I close my eyes I fall over.
To put it in a nutshell I am a very wobbly walker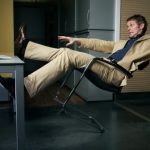 In the kitchen I must use a stool on wheels. The Wife and I were cooking supper last Sunday and everything was getting a bit fraught. Not enough pairs of hands to prepare everything. I moved forward on my stool but a wheel got stuck in the grouting between two floor tiles. The stool stopped […]