Covid 19 and isolation
In March 2020 the Covid 19 and isolation pandemic hit this country. Panic buying in the supermarkets was a sign that life was going to change. On 26 March the UK government made stipulations that changed the way we live and work. Lock down started and the results were draconian. Queues to get into shops that were open, supermarkets, chemists and the poostoffice. No socialising, work from home and only essential travel. Bg shock for everyone
Only essential businesses remained open, so many people now work from home. The schools are closed luckily this coincided with a leapfrog from chilly winter weather to blue skies and summer sunshine. Spring came and went in a flash.
All the blogs I write while Covid 19 is affecting my life will appear here on the website. Superficially my life has not really changed but any change demands adaptations to my routine. I am slow to adapt to any change: is it the MS, being 65 or am I a stubborn old git?
5 May 2020
Events are changing by the day. People are now talking about getting this country back to work but no one is quite sure how to go about it. On the surface lock down life is becoming the norm. Scratch the surface and the inequalities of day-to-day life will become very evident. Job security, growing inequalities and social deprivation will soon bubble to the surface.I am lucky, I live in the relatively wealthy middle-class English town nestling on the edge of the Chilterns. My conscience is pricking me.
13 May 2020
Rate of infection has slowed down and I'm now starting to get bored by the lock down. No one can do anything different except exercise twice a day and visit a garden centre  Information on an exit strategy from this crisis is sketchy. Its still one day at a time.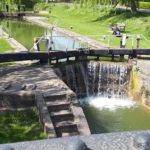 23 May 2019 I enjoy a spontaneous event. Something completely unplanned and it must make me feel happy  During the lock down caused by Covid19 pandemic so many of these little life-events have stopped. I really was pleased to see the back of a few but there so many that I really miss. I love […]