Enjoying our garden during the lock-down
24 April 2020 Well, isn't the weather glorious, but it looks like some rain is due any day. I'm enjoying our garden during the lock-down. In this time of chaos l am able to quietly watch it evolve. More by good luck than design there is always at least one plant flowering in the garden throughout the year but its gardening on a budget. There is always something new to look at and enjoy.
Domestic arrangement
I have no colour sense and often use the wrong words to describe a colour, is it beige or grey, but at least my fingers are quite green. In our household The Wife decides the colours she wants in the flower beds. I source the plants online, get her approval then I buy them. When they arrive she plants them only because I cannot dig a hole in the ground. This strange arrangement works, we are each drawing on our strengths.
Garden pots are completely my responsibility, I can look after them by sitting down gardening, no accidents or unplanned falls.  Occasionally I will buy a plant, grow it in a pot and then offer it to The Wife as a gift. This strange matrimonial arrangement works well.
Growing the seeds
Planting tiny seeds and watching them grow into a plant which blossoms and generates more seeds never ceases to astonish me. There is one small drawback, my seeds germinate and grow into seedlings but then the trouble begins. Monty Don and Joe Swift can persuade their seedlings to turn into majestic plants but mine falter and then perish.
Its the moment when I transfer the seedlings into a pot or the garden is my downfall. The tiny plant can detect my clumsiness and ineptitude so decides to disappoint me again and again. To avoid disappointment, I buy seedlings online. More expensive but it works. I have had limited success growing salad leaves. It makes me feel satisfied and a worthy person when I make and eat a salad I have grown. This year I am more determined to be successful.
Is this cheating?
Buying a pot of pre-made pesto or using leaves I have bought from a supermarket just does not cut it with me. Making pesto from basil that I have grown is rewarding. I buy pots of parsley from the supermarket and then plant them at home. A few days of sunshine and fresh air allows the full flavour to develop.
Enjoying our garden during our lock-down
Before Corona virus catapulted us into chaos The Wife and I looked after dogs for people who had to go into work for the day. Now there are no dogs in the house or doing their business in the garden. Now me and The Wife can start to enjoy and appreciate our little oasis. During this glorious weather I can wander round the estate (haha) talking to the plants and watching them grow day by day. My seeds have germinated (hurrah, hurrah) maybe I will watch them grow into plants that I can then eat.
I am not an artistic or creative person, but I really appreciate nature. The garden is a sanctuary, a place where I can watch the changing seasons and the perpetual regeneration. No lock-down for the plants instead they create a stage where I'm now enjoying our garden during the lock-down.
Associated blogs
I have discovered sitting-down gardening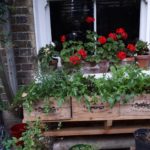 .
.
.
.
.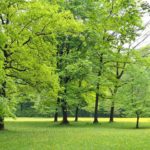 Do Hospital Gardens Aid Recovery?
.
.
.
.
.
April 2020
4 responses to "Enjoying our garden during the lock-down"