I have discovered sitting-down gardening
Another change because of MS. Time to discover a different way to garden. Now it is now 'plastic-lined' boxes type of gardening. No more digging holes with a spade or bending over to pull up weeds. I have discovered sitting-down gardening.  Perhaps it found me, who knows?
Childhood
My father introduced me to gardening when I was a small boy. He loved lupins, roses and clematis. but did not grow any vegetables. He loved pottering in the garden.
Middle age
My first real success I had at gardening was planting an apple tree. Just after it had become established and was starting to produce a reasonable number of apples we then moved house. That was nearly 20 years ago.
My 60th birthday
Some friends gave me an apple tree. We planted it against a south facing wall with the idea is to keep it small and compact by pruning it regularly. It was at about this time that The Wife forbade me to do any more standing-up gardening. I fell over too often and too easily, critically injuring some plants not to mention denting my own ego.
Plants in pots
The Wife said, "Look after the plants in pots on the windowsills outside the dining room and on the patio". All fine and dandy but I had to get her permission to buy any new plants The flowers must blend into the colour scheme.
"Blokes don't understand colours, especially you" she said.
I felt a bit hurt. My nose had been put out of joint. I must find a project of my own in the garden and I will have full responsibility.
"Aha, I will grow some salad".
"Good idea", she said
That weekend we bought a garden bench, three lined boxes and three bags of compost. I put the boxes on the bench and filled them with compost. I could do all this whilst sitting on my Rollator.
Now the fun bit
I bought some parsley from the supermarket. The local WI stall in the market had some Greek basil. Our garden centre had lettuce and rocket. This got things started. Once again I could plant these whilst sitting safely on my Rollator.
In the garden centre I also bought some seeds, radishes, Lollo Roso lettuce, Endive Lettuce and some Rocket. I sowed these, they germinated, I potted them on. We have eaten some already.
The best bit
When we want some salad or herbs with a meal  I just go out and pick it. It really is as easy as that. The home grown salad tastes much better than anything I can buy in a supermarket.
Next year
I have discovered sitting-down gardening, it is a success. Next year I plan to buy another bench and more boxes. I must remember to start planting earlier and sow fewer seeds at a time. I will also try a wider variety. Grow your own is immensely satisfying and rewarding plus it takes up very little space.
I recommend you to give it a go.
Associated articles
Raised garden planter bed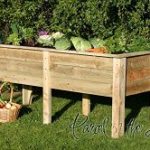 .
.
.
.
Do hospital gardens aid recovery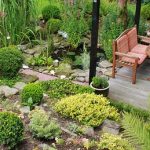 .
.
.
.
July 2018
4 responses to "I have discovered sitting-down gardening"