My Exercise
P[ersonally I think exercise is very important. As well as the obvious health benefits there are mental and emotional benefits. I get that warm glow feeling when I have taken some exercise that has pushed me physically. For me swimming is the only exercise that fits that category.
Going out for a walk with my rollator is also exercise but I don't get puffed. Instead it tests my balance and use of my legs. I do Pillates and that exercises my core muscles.
Any exercise is good for me, even pottering in our tiny garden. My mind always feels much less cluttered afterwrds.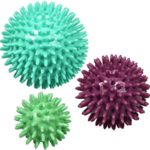 I was toppling onto the floor far too often and I could see a wheelchair hovering over me 🙁 So, I arranged to see a physiotherapist at the Chilterns MS Therapy centre. At the start of every appointment the physiotherapist massaged my feet and ankles with a spiky ball to improve my balance.  Would  a […]