Would  a spiky ball foot massage help me with my balance?
I was toppling onto the floor far too often and I could see a wheelchair hovering over me 🙁 So, I arranged to see a physiotherapist at the Chilterns MS Therapy centre. At the start of every appointment the physiotherapist massaged my feet and ankles with a spiky ball to improve my balance.  Would  a spiky ball foot massage help me with my balance?
Proof of the pudding is in the eating
MS affects my left arm and leg. Now I can barely write and cannot walk unaided. I bought three different sizes of spiky balls and spend about 10 minutes every morning rolling one of them all over both my legs, feet and ankles. They definitely help to ease my chronic foot drop and leg drop. At the same time my hands and fingers feel so much better just from rolling a ball around my legs.
Seen from an MS position
The spiky balls stimulate the proprioceptor nerves that send messages to the brain. These nerves help me keep my balance and stay on my feet. Proprioceptor nerves allow me to touch my nose while my eyes are shut. These sensory receptors are found on the skin, joints, and muscles.
People with MS suffer from stiff muscles. A spiky ball will help to ease the tension and maintain flexibility in the joints. Another advantage is an increase of blood supply to the muscles.
Click here to buy a Pack of 3 Spiky Massage Balls 
.
In conclusion
A spiky ball foot massage is effective. It can reduce muscle pain and tension, and increase mobility by stimulating blood flow throughout the body. It makes joints more flexible and responsive. For someone with multiple sclerosis it ticks so many boxes.
Will a spiky ball foot massage help me?
The spiky balls are a life changer. They help me with my balance but I discovered another advantage quite by chance, Rolling the small ball over my hands and forearms means I am less clumsy. This means fewer broken cups and glasses 🙂
The wheelchair is now smaller and further away from me and I don't fall over quite so often. I call that a wonderful result.
Click here to buy a Pack of 3 Spiky Massage Balls 
Associated articles
I must ensure exercises become a routine activity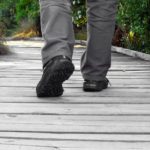 My exercise routine at home that ticks a lot of boxes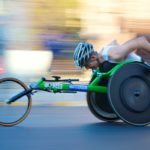 September 2021
6 responses to "Would  a spiky ball foot massage help me with my balance?"