Sponsored walks
Everyone knows how important it is to take exercise. It is something nearly everyone takes for granted. Walk to the shops, maybe take the dog for a walk or even be a member of a running club. Like so many other people with progressive MS anything that expends a lot of energy is now a pipe dream for me.
Nowadays my exercise consists of walking a few hundred metres with my rollator a few times a week. It is a struggle to go out and sometimes the temptation to skip it is irresistible. The only way I can motivate myself is by doing a sponsored walk. Equally important it must be something that I can achieve but it must also require a commitment to achieve the goal.
Just telling myself to go out and do it is not enough. Instead I have to make a commitment to other people. So I do a sponsored walk every year.
In 2015 I walked the MS Mile. My local MS Therapy centre at Halton in the Chilterns celebrated its 30th anniversary by organising 30 walks each 1 mile long throughout September and it raised over £70,000. I took part; walking 1 mile in Berkhamsted. I raised £1,500 but a mile was just a bit too ambitious for me.
In 2016 I was more realistic and decided to walk 1 Km. Parallel London, started in 2016 provided the answer and I raised £1,100 for the Jubilee Sailing Trust.
In 2017 I am going to be doing the same walk with Parallel London but this time raising money for the Chilterns MS Therapy Centre. It is an extraordinary sanctury for people who suffer from MS.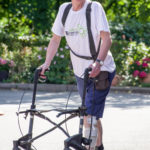 Its a wonderful September day. Warm enough to wear shorts but not so hot to become a shade seeking missile. Three months of preparation and I had one hour to prove that I could do it. Yup, Sunday 13th September was the day when I was going to walk for one hour and you had […]