The day I walk for one hour
Its a wonderful September day. Warm enough to wear shorts but not so hot to become a shade seeking missile. Three months of preparation and I had one hour to prove that I could do it. Yup, Sunday 13th September was the day when I was going to walk for one hour and you had kindly donated over £5000 to my Just Giving page.
Thursday before the walk
I woke up with an incredibly painful back. Standing up and taking just one or two paces was agony. I can't let people down, the show must go on but the pain was excruciating. I downed a couple of Ibuprofen and I did the same again eight hours later. Rest was the order of the day.
Less pain the next day and the Ibuprofen intake continued. I did not say a word to anyone. The Wife guessed that something was not quite right, but common sense prevailed and she kept her worries to herself.
Saturday morning
Ibuprofen intake continued but I was on the mend. Phew, my body opted to shut up and let me get on with my life. The walk will go ahead.
Sunday 13th September
The weather is ideal, not a cloud in sight and all I've got to do is just walk continuously for an hour.  The staff at the MS centre have organised a route for me that is both inside and outside. An enthusiastic audience of six were had arrived and now it was all down to me.
Despite all the training I had never managed to walk for one hour. Fifty minutes was my limit and that left me feeling exhausted.
Walk for one hour
Three, two, one and I've started. This was going to be the test of me versus multiple sclerosis. At the start I felt fantastic.
"No problems", I muttered to myself. "I can do this any day and every day".
Fifteen minutes later
I am still feeling invincible but I have slowed down a little bit. Fatigue is starting to kick-in.
Halfway there, a milestone
The legs are now feeling heavier. The effort to put one foot in front of the other is growing. Small bumps on the ground are now harder to walk over. I'm more and more reliant on my Rollator. The words of encouragement are music to my ears.
Forty five minutes
I am now walking into uncharted territory. Each step calls for more effort than the previous. Words of encouragement keep me going. I no longer have the energy to smile though apparently I do so the whole time.
"Only 15 minutes to go and then I can sit down", I tell myself.
Now its my personal grit and determination to complete the mission. My thighs hurt, my body aches and all I must think about is taking another step.
59 minutes and 55 sec
Just two more tiny steps, ONE TWO and an hour's walk is finished. Someone places a chair behind me and I flop into it. I am cream crackered but elated.
I have received is over £6K in donations, thank you everyone. Its not just about the money. Its also proving that I can walk for one hour even if it did take 48 hours to recover. Now I have a feeling of immense satisfaction.
Associate articles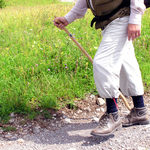 Walking is sensible exercise
.
.
.
.
September 2020
8 responses to "The day I walk for one hour"