Walking round the supermarket with a trolley
When I started taking Fampridine the physiotherapist was insistent that I take more exercise. I mentioned that I go to the supermarket every day and do the shopping on The Trike (3 wheel light-weight mobility scooter). Her eyes lit up, "I know what you can do" she said. "This is an idea. Walking round the supermarket with a trolley".
Walking round the supermarket with a trolley
This sounds really easy. Ummm if only I could agree. When I arrive at Waitrose, my nearest supermarket, I must find a small trolley. Now I can tether The Trike, so it's not stolen. Put my expensive lithium ion battery into the trolley, check that my FES is turned on and I can start walking. Already this is challenging my balance. I must not fall over.
Away we go
First stop is to pick up a zapper for 'Quick Check'; apparently I am a loyal Waitrose customer. To pick up the flashing zapper I have to turn around and invariably reach to the top or bend down to take the one allocated to me. Now I check the shopping list and work out the most efficient route. Did I hear you say "Easy peasy lemon squeezy"
My balance is challenged
Pushing a trolley in a straight line ought to be simple. It's when I want to stop, no brakes on these trolleys.
If only everything I wanted to buy was in one aisle. Here is a supermarket secret, turning the trolley round a corner takes a lot of practice.
Will the trolley do what I want it to do? I must not fall over.
Assorted problems
By now I have zapped fruit, veg and fish and loaded my purchases into the trolley. Next stop is to get some bags of ground coffee. En route I have to navigate past a couple who are idly talking about the difficulty finding a cleaner. I approach the coffee but I see someone trying to make up their mind which brand they want. This someone has stopped right next to the brand of coffee I want.
Now for a complicated manoeuvre
I have to parallel park then walk backwards pulling the trolley. Now I turn around and ask for the coffee and avoid falling over.
"Excuse me, can you please just pass me two bags of that coffee." I say pointing to the coffee I want.
"Oh that's no problem, here you are".
This just leaves one simple problem find the zapper in my trolley and zap the coffee.
Slowly I make my way round Waitrose, get everything that's on the list then pay for it. Contactless credit cards are a wonderful invention; my bill is always less than £30.
One last challenge
I'm back at that The Trike. Reconnect the battery, load up the bag of shopping and ride back to the house. Walking round the supermarket with a trolley is getting easier.
Quite often I bump into a friend and they say 'Great to see you walking again'.
'It is a challenge' I tell them. I think that's why the physiotherapist asked me to do it.
Associated articles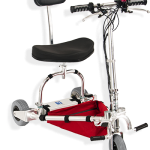 Reasons why I enjoy my Travelscoot
.
.
.
.
.
.
Walking is sensible exercise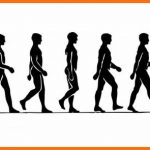 .
.
.
.
.
.April 2018
12 responses to "Walking round the supermarket with a trolley"