Physically disabled in Athens a survival guide
I am on the Patient Advisory Board for the RADAR-CNS project. This is an exciting and ground-breaking project and rather than me explaining it, I suggest you go to their website which is HERE. This year their annual conference was in Athens and I was there for four days in mid May. If you are physically disabled in Athens then you need a survival guide.
Physically disabled in Athens a survival guide
It is the cradle of Western civilisation and the birthplace of democracy. It predates my mobility scooter, The Trike, by over 25 centuries. I was staying in a hotel in the city centre. On one side I could see the Acropolis and in the other direction the temple of Zeus and Hadrian's Arch. Outside the hotel was a very busy road called Athanasiou Duakou, not unlike Park Lane in London. There were no Pelican crossings available for me to use on my mobility scooter outside the hotel. I had to cross the road to do any sight-seeing; impossible unless a hotel porter stopped the traffic.
Admission to all the antiquity sites is free. That's all very well but actually getting to the nearby sites was a challenge.
Getting around Athens
The city is not designed or adapted for people with a mobility problem. The pavements are very uneven, in need of serious repair, and at times impossible to negotiate. Dropped kerbs are a rarity and do not exist on opposite sides of the road at traffic lights.
The Greek drivers
Car drivers resent driving behind anyone else. Many of the moped drivers or passengers do not wear crash helmets, have scant respect for anyone else and red traffic lights are often ignored. The 'red light dash' acquired a new meaning. I offered prayers to Asclepius or Hepius, a healer and god of medicine in ancient Greek religion and mythology, whenever I had to cross a road.
Limited sightseeing
I could not get up to the top of the Acropolis, the disabled access lift was not working. Getting as far as the lift in a manual wheelchair would be a Herculean task. The Acropolis museum is very disabled friendly as is the Panathenaic Stadium but here you can only stay at ground level because there is no lift; incidentally both are worth a visit.
A bit more info
Guidebooks tell me that the underground system in Athens is accessible but I didn't have a chance to find out. The food is good and the restaurants were accessible but the uneven pavements, could suddenly turn into steps, a wheelchair nightmare. I have heard that the hotels are not wheelchair friendly and the lifts tend to be very narrow.
I really enjoyed visiting Athens but there are definite drawbacks if you are not fully mobile. Sadly I will not be in a hurry to go back there again, I blame the dreadful pavements. I loved the food, antiquities and the sunshine, a pleasant 21C and not a cloud in the sky.
Associated articles
Train travel for the physically disabled
.
.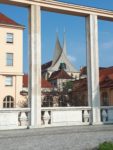 Disabled man flies to Prague
.
.
.
.
.
May 2019
2 responses to "Physically disabled in Athens a survival guide"