Ring-pull can opener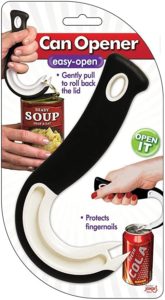 It does exactly what it says on the packet. A can opener that levers the ring pull up and opens the tin. These days all tins are opened just by pulling a ring. It all sounds super easy. When I try I invariably find it super difficult so I resort to an old fashioned tin opener. The smaller the ring-pull the harder it is. Make life easier for yourself, just buy a Ring Pull can opener
.  Use a ring-pull can opener, very simple and so easy.
Those tins with very small ring pull loops are really bad news if you are not very strong. Perhaps you have difficulty pulling the ring for one reason or another. Another problem is lifting the ring so it can be pulled.
Why not buy a ring pull can opener, browse here Ring Pull Can Opener
Ring-pull can opener
This makes opening tins a 'a walk in the park'
Opening tins of pet food, tins of anchovies and even tins of soup, they all need a ring pull. I suggest you throw away your tin opener and open the tin by pulling up on the loop just by using a Ring Pull Can Opener
, This is a 'must have' piece of equipment to use in the kitchen.
It is ideal to use 
If you are disabled and lack manual dexterity
Suffer from arthritis or you have a weak wrist and poor grip
Finger is too fat to go through the loop
Saves ruining your finger nails
There is a non-slip grip handle to make it even easier
This is also a very simple item to use
Open ring pull cans with easy lever action
Ideal for arthritis sufferers, the elderly or not very strong
Comfortable non slip grip handle
Incredibly easy to use
Have it in a really accessible place. It takes all the stress out of what would otherwise be a very fiddly job. It is simple, effective and low cost
Buy a Ring Pull Can Opener
 see for your self.
2 responses to "Ring-pull can opener"