Hidden disabilities of my MS
My MS diagnosis was 25 years ago. Little relapses were always followed by a remission. I was working and leading a perfectly normal life or so it seemed to an outsider. In 2000 my remissions stopped. The anxiety, bladder and walking problems of MS became permanent and they also slowly got worse and worse. An even bigger surprise, I discover hidden disabilities because of my MS.
My friendly MS consultant prescribed some drugs to help me manage these permanent symptoms. A good quality of life is restored. Sadly it is only a temporary respite, every few years MS bites off another chunk of my life.
Hidden disabilities of my MS
Today people cannot see all my subtle disabilities and some of the signals are misinterpreted. I use a funky mobility scooter  known affectionately as The Trike, because walking is impossible. People are surprised, even astonished, when I stand up on my feet. If push comes to shove, I can even stagger a few yards but I must always hold onto something.
The Wife is a vital cog in my life
She isn't my carer, she is my pillar. She is the only person who knows all my problems, visible and invisible. I am an independent person but there are basic things I cannot do that other people just take for granted. I cannot carry a cup of coffee or a plate of food. The reason is stunningly simple. I must use both my hands to hold onto a wheeled walker when I walk around the house.
People see me sitting in a normal chair in a restaurant or coffee shop and they have no idea that I am chronically disabled. These people need to come and live in our house for a day or two. Only then will they see my day-to-day problems of living with MS.
My MS world
When I have a shower I must sit down in the wet room. Writing is very difficult and it's illegible. Using a screw driver is all but impossible. I have great difficulty doing up or undoing buttons of a shirt. My motor skills have vanished. Sometimes I just run out of energy and must sit down, it's called fatigue.
A step too far
Undoing a bra today would definitely be a challenge too far. There are a few advantages in being a bloke who is over the hill, this is one of them.
Its snakes and ladders
I can look my very old friend MS straight in the eye and tell it to take a running jump. I will not allow my MS to howl or wail but it never goes away. Just when I have mastered the art of living with it a new hidden disability creeps out of the woodwork. A new problem but that's my life.
My problems are minor in comparison to those of many other people. They are just some of the hidden disabilities of my MS. My life is never boring.
Associated articles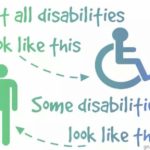 An invisible physical disability
FCAROLYN silk eye patch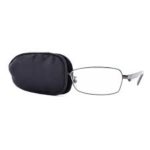 November 2019
8 responses to "Hidden disabilities of my MS"