Ideal solution to an FES problem
My problem is simple. How do I safely carry my Functional Electrical Stimulator (FES)? So many people with multiple sclerosis have foot drop and must use a FES to help with walking. I think Man's Sports Waist Mobile Phone Pouch (Brown)
 keeps the FES is safe, secure as Idewell as easy to access. I honestly would not be without it.
I use a dual channel FES
A dual channel FES is quite big; 15 cm tall, 8 cm wide and 2.5 cm thick. This is too bulky to fit comfortably into the hip pocket of my jeans. When I do shove my FES into a jeans or trouser pocket I invariably alter the controls for the electrical charge sent to the electrodes. Sometimes I can turn the level up and the charge sent to the muscles turns into a real stinger or I can turn it down so the FES becomes ineffective.
Ideal solution to an FES problem
I can use it to carry other gadgets like my mobile phone or keys. There are loops on the bag that a belt slips through so it is at hip height. Originally The Wife spotted it and sent me a link but it was for expensive leather ones,  costing about $ 150 each. Fashion items, definitely not my thing. Then I found a selection of good quality canvas type material bags at a tenth the price. This is the sort of thing, Men's Sports Waist Cellphone Pouch.
It is ideal to carry something too bulky to fit into trouser pockets. There are zips on the belt bag to stop anything falling out. Useful if you do handstands. 🙂
It has two uses
Carry my FES
Carry my mobile phone
For a long time I used the breast pocket of my shirt for the phone but it had a nasty habit of falling into the loo, not a good way to treat a mobile phone. Also there is no breast pocket with a T-shirt.
I am now the proud owner of a belt bag it solves the problem of the FES and my mobile phone. The controls of the FES do not change while it is in the bag. My mobile phone now has a safe a reliable place to be kept. This is a win-win and it makes life easier.
Click here a buy a Men's Sports Waist Cellphone Pouch.
Interesting thoughts
I'm interested to know how a woman copes with a dual channel FES. Is it too bulky for trouser pockets? Is it kept in a bag of some description? How do people cope when they need the FES? The big problem is the wires between the FES and the electrodes on my left leg. I would like to find out how you cope with carrying a FES?
Associated articles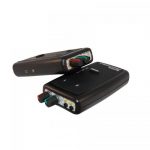 Two channel FES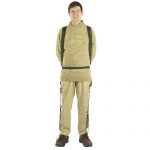 MuSmate a walking aid for footdrop
August 2017