Luton Central railway station
Luton is a large town in Bedfordshire with a population of over 210,000. Luton Central railway station is busy with five platforms and about 12 trains an hour stopping there. Lots of London commuters use Luton Central railway station. Just recently I visited the Luton campus of Bedfordshire University to give a talk to 2nd year adult nurse students.I discovered that only 1 platform has a lift and the other four platforms can only be accessed by stairs.
Travelling to Luton from London
Usually The Wife takes me there and I return by bus. This time I had to go by train via Euston, London then up to Luton from St Pancras. Hassle free and the whole trip took me about 75 minutes. I gave a three hour presentation to the students about Long Term Conditions which they really enjoyed. After the lecture just a five minute ride on The Trike back to the station.
Now the Problems Began
I rock up at the station and ask someone which platform for the London trains.
The person said, "Oh, you need platform five".
I had always known there is a lift for passengers on the trains coming from London so naturally I assumed there will be lift for the trains going down to London but I could not find it :-(.
Time for Plan B
I spoke to a member of the platform staff. "Is there no lift to access London bound platforms in my mobility scooter"?
"That is correct" the ticket inspector said to me.
I asked the question again and she told me the same answer.
Suddenly I realised that my journey back to London will not be as simple as I thought.
"How does a disabled person on a mobility scooter like this one travel to London by train"?
"Oh" the ticket inspector said. "You must go to Luton Parkway the next station. Catch a bus are outside the railway station".
To cut a long story short
I caught a bus to Luton Parkway. There the station staff were superb. As I arrived a London train was pulling in and they put me into a disabled person's compartment. That detour added an hour to my journey.
Two weeks later
I am still thinking about the inadequacies of that station. Is there nobody in Luton who commutes into London and uses a wheelchair? What happens to passengers travelling south and getting off the train at Luton? It could be a woman with a buggy or an elderly person with package. I didn't challenge the station staff to carry my 17 Kg mobility staff down to the platform, life is too short. Maybe I missed a trick there.
Luton central railway station
We are in the 21st century and Luton central railway station is only inclusive for passengers using platform five, trains from London. The station is in desperate need of a lift for the other platforms. This will provide access for a large and diverse range of society. How have Network Rail succeeded in not spending money to make Luton central railway station fully accessible. This is scandalous and a total mystery to me.
Associated articles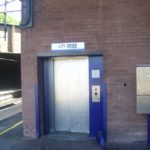 Railway stations and access for the disabled
August 2019
4 responses to "Luton Central railway station"