Beaumont Leg Rest to get the weight off your feet
Beaumont Leg Rest
is a smart stool to use to rest your legs. Use it when your feet feel tired. Its sturdy and it has variable height adjustment between 38.5 cm and 53.5 cm Put your feet up in comfort and relax so you can enjoy a rest at any time of the day. It can also be used as a stool providing you weigh less than 16 stone  (101 Kg)
The Beaumont leg rest
It is a functional of furniture and it will prove essential if you want to rest with your feet off the ground At the same time as resting you can have the added benefit of improving your circulation.
It will help to make your life just that little bit easier. Imagine when your legs get swollen or ache because you have been on your feet for a long time or done a lot of walking. This is an ideal item to rest them.
The vinyl top of the leg rest has heat sealed seams for improved hygiene. The frame is finished in a tough epoxy polymer finish.  There is a fire retardant easy to clean fabric for durability with minimal maintenance.
The legs have non slip rubber feet for extra stability. This means that it will not move around. Essential if you are using it as a stool and makes life much easier if you have difficulty lifting your legs. You can raise the seat to it is level or tilted only at to one end if that is mor
Using the leg rest is ideal when you want to put your feet up and to have a rest. The version with castors is easier to move. Both types weigh 4.5 Kg so there is an argument for getting the one with castors but it is more expensive. Take your choice.
Without castors – Beaumont Leg Rest

With castors Beaumont Leg Rest with Castors
Associated articles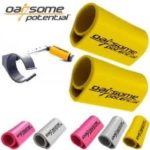 Oarsome Crutch Grips
October 2020