Black Handled Mezzaluna, two handled herb chopper
A Mezzaluna is two parallel metal crescent shaped blades with a handle at each end. The rocking action of the blades is such an easy, safe and natural action for chopping herbs. Mezzaluna means "half moon" in Italian, after the curved shape of the blade
Two handled herb chopper
It is very easy to use when I prepare food which can be too small to hold easily and safely  Why not use a Mezzaluna to make light work of chopping all your favourite herbs, garlic, shallots, chillies, onions, celery and even nuts. The crescent shaped blades with a handle at each end make cutting very safe. I love it.
Cooking food
I suffer from multiple sclerosis, it does make my life more complicated. Significant problems include; I cannot walk unaided, my hands are much weaker and my fingers are losing their sense of touch and feel. Suddenly easy tasks become more difficult. There is almost no chance of an accident happening when I use this kitchen tool. It is impossible to cut my fingers when I use the herb chopper because they must hold the handles and rock the Mezzaluna.
Very efficient
It is so easy to control how finely I chop the herbs. Holding the handles is natural and the rocking action is extremely easy. I will be the first to admit that it is best to use it on a wooden chopping board but I have used it successfully on a plastic one.
How to store it
I keep mine standing on its cutting blades in a cupboard. Instead I could also keep it on our magnetic knife rack where I also store all the kitchen knives. I would be very reluctant just to keep in a kitchen drawer because it would be only too easy to accidentally cut my fingers.
It is dishwasher safe however I do find it safe and easy to washup in warm soapy water with the kitchen knives
Common uses in Italy include chopping basil for pesto and cutting pizza, They can be sold with a cutting board that has a shallow indentation in it.
I have owned a mezzaluna for years and bought it abroad. If you would like to buy one now then click Black Handled Mezzaluna  or click on the picture.
Associated articles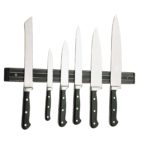 Magnetic Knife Rack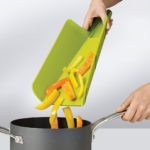 Folding Chopping Board
June 2021
2 responses to "Black Handled Mezzaluna, two handled herb chopper"