I will always love my Travelscoot mobility scooter
I have owned a Travelscoot mobility scooter for ten years and it is still fun to ride. I have not seen another mobility scooter that is as versatile or manoeuvrable. As I cruise along the pavement, I see pedestrians eyeing up my scooter and they always look envious. Even after 10 years I still love my TravelScoot.
I cannot walk unaided
I stumble about the house using a 4 wheeled Walker. If I venture outdoors my walking speed is about 10 metres per minute and it must be on a level surface. So I can walk but it is painfully slow and not for very long either. If I want to go anywhere then I must use my mobility scooter.
Love my Travelscoot
When I saw a TravelScoot for the first time I just knew it was going to solve all my problems. At that magical moment The Wife was pushing me in a wheelchair. Eventually we caught up with the man on the TravelScoot. While The Wife got her breath back and I had admired this amazing mobility scooter we exchanged email addresses. The rest is history.
I can move myself around in a wheelchair but they are fickle things to manoeuvre manually. I do not have the necessary upper body strength to push both of us up slopes. Quite simply I have never felt comfortable or relaxed in a wheelchair.
League of its own
The TravelScoot has been carefully designed by someone who wants to incorporate so many useful features. It's all the little things that convert it into something practical for the 21st-century. The red shopping caddy that is slung on the 'A' frame between the front and back wheels is indispensable. I find it very easy to access when riding the scooter. I can carry shopping in it or easily retrieve my man bag or even a jumper which I might need to use in the evening.
It's a very simple matter to remove the seat, lower the handlebars and lift the Travelscoot into the back of our estate car. The Wife and I do this without giving it a moment's thought. Folding it up only takes a minute or 2 and then it is amazingly easy to lift up using just one hand because the weight is evenly balanced.
Other obvious features
All basic maintenance can be done at a good bicycle repair shop. If you are feeling brave you can do it yourself, the American office has put together an excellent series of YouTube clips to show you how to do things, just click HERE. It is supplied with a set of Allen keys so the company expects you to do a lot of maintenance yourself.
It's not all perfect
The front wheel is only 200 mm diameter so it struggles to mount a pavement kerb  that is only 75 mm high and the small wheels also make for a bumpy ride. The lithium ion batteries are not cheap but they do seem to keep on going. The motor is surprisingly powerful but going up a slope drains the battery.
Love at first sight
My TravelScoot soon got a nickname, 'The Trike'. It gives me independence and freedom. I can get onto it in the kitchen, go to wherever takes my fancy and I am not dependent upon anyone else. Multiple sclerosis is a disease that makes your world so much smaller, I love my TravelScoot because it eliminates this limitation.
Incidentally I have no financial involvement with Travelscoot.
For more information about Travelscoots click HERE
Associated articles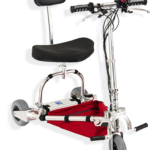 Reasons why I enjoy my Travelscoot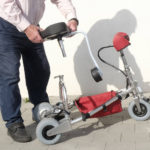 Getting air miles with my Travelscoot
August 2020
15 responses to "I will always love my Travelscoot mobility scooter"