Will the lumbar puncture hurt?
I have now had four lumbar punctures. A small sample of fluid is taken from the spinal cord to measure the activity of multiple sclerosis. Think lumbar puncture and my hair stands on end. The idea of a syringe going into my spine and thinking 'will the lumbar puncture hurt?' are two concepts I don't like thinking about. I have just had my fourth one.
Why, why, why
I have lumbar punctures because I take part in MS drugs trials and the lumbar puncture is completely voluntary. I hope going through this process will help research. It is definitely an altruistic act and entirely self-imposed. I'm just that kind of guy.
My first experience, 2012
I am sure the doctor was a rookie. After numerous painful attempts to insert the needle a more experienced doctor took over. The procedure finished soon after that. All I really remember was gripping the nurse's hand really tightly because of the pain and wishing I wasn't there. When it was finished I had to lie on the bed for a couple of hours and drink lots of water.
The second time, 2014
Now I was mentally scarred. I did not want to go through it again, I was very apprehensive. This time the entire process took only 20 minutes, it was totally painless and afterwards I went down to watch the disabled Olympic Games in Stratford, London. No pain, no headache and a happy man.
Third lumbar puncture, 2015
I was starting another drugs trial and I had agreed to a lumbar puncture but straightaway I had regrets. Just before the procedure I had lunch. This was a displacement activity to stop me thinking about the entire process.
The lumbar puncture process began but straightaway I regretted putting a tick in the yes box. There were a flutter of butterflies in my stomach. The doctor said the process wouldn't hurt. Nonetheless I was tense. It took ages before the needle was inserted into my spine meanwhile I was getting more and more lightheaded.
Eventually it started but just as the doctor was about to start taking the fluid out I told him to stop.
I blurted out 'I've got the spins'. I added 'My lunch wants to come up and say "hello"'.
The nurse immediately said 'You don't look well. In fact you look positively green'.
'Great' I thought and felt very sheepish.
Fourth lumbar puncture, 2018
I had no option over this one. I had no fears or worries about it, I don't know why. In fact the whole process took just 15 minutes and was totally painless. The only way I could go through the process was to talk. A fifteen minute spew of non-stop chat, apparently all the other people on the floor heard every word as well.
Will the lumbar puncture hurt?
I have had a range of experiences, good, bad and traumatic but it has never caused a headache. When you have a lumbar puncture do remember to ask the doctor to use a smaller atrauamtic or non-cutting needle. This will significantly reduce the chance of a headache after the lumbar puncture.
Associated articles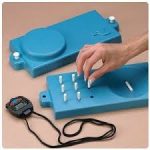 February 2018
9 responses to "Will the lumbar puncture hurt?"