Your Disability Living Allowance is ending
It was the usual brown envelope from the DWP with a return address of DWP PO Box 535 Belfast. It's never an expensive white envelope and it's never by first-class mail. Their letters always arrive on a Saturday morning just like this one, 21 April 2018. I opened it, the message was very simple, Your Disability Living Allowance is ending.
Short sharp and to the point
It's a bit like catching a Mills hand grenade and DWP have already removed the pin. I knew this little bomb with my name on it existed. It was just a matter of time until it found its target. Well now I have it in black and white.
Your Disability Living Allowance is ending
"Please don't ignore this letter. You need to decide if you want to claim Personal Independence Payment". Of course I want to claim this state benefit.  I have advanced multiple sclerosis. It is an incurable disease and it slowly gets worse and worse. I am disabled. I cannot walk and of course I do not have a job.
The computer says 'no'
In the letter there is a sentence which goes "If you want to claim PIP call 0800 917 2222 by 15 May 2018". I phoned this number up on Monday 23 April at 9.30 in the morning. The woman who answered said "The computer is down at the moment. You must phone back a couple of hours later".
This was not a great start. "It's got to get better from here on" I said to myself.
Text Messages
I did finally manage to talk to someone at the DWP and told them I wanted to claim PIP. This phone call lasted about half an hour and now the process was underway. At least the DWP understand mobile phones. I receive text messages telling me the progress of my claim. I am impressed but will the rest of my claim be equally straight forward?
The latest text tells me the form "How your disability affects you" is in the post. They also tell me that I must fill it in carefully and then return it to them by the date printed on the front page. Ummmm, sounds interesting.
Problems
Claiming PIP is fraught with problems according to articles I have read in the press. This is just the start but I can feel stress and anxiety levels building up.
The Wife said "Well you are disabled. You can't walk, you've got double vision and you can't drive. So there should be no problem". Is this realism, naivety or optimism?
Lap of the Gods
I think the whole issue is a bit of a lottery. The area that concerns me is being able to recollect and put down on paper all my MS problems. I might find this difficult because I do not remember the bad times. It's far too depressing.
I only remember the good times. Let's hope this is an easy, painless stress-free process
Let's hope "Your Disability Living Allowance is ending" moves seamlessly into "Your Personal Independence Payments are starting".
Well, hey ho, it's onwards and upwards.
Associated articles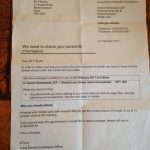 Department of Work and Pensions invite me to a meeting
.
.
.
.
.
.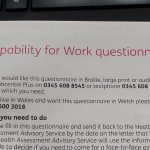 Capability for work questionnaire
.
.
.
.
.
April 2018
10 responses to "Your Disability Living Allowance is ending"