My positive attitude despite MS disability
Isn't it great when a positive event happens, I love it. The wretched pandemic has imposed so many restrictions on everyone's life, mine has been no exception. It's not always easy to see when there is an opportunity that is exciting and fun. I always try to have a positive attitude despite MS disability.
Gardening is a problem
A recent victim is Gardeners World on television hosted by Monty Don. MS now prevents me from digging holes and planting new shrubs and pruning roses. I particularly enjoyed his final scene on Jobs to Be Done in the garden. Instead I will find other things to do. Sitting down gardening is a new one for me.
In the house
Back in the day I could never describe myself as a DIY Handyman but at least I could emulsion a wall. Sometimes I would do other simple handy jobs around the house such as clearing drains or putting the bins outside each week. MS has taken away the ability to do such acts of kindness.
Positive attitude despite MS disability
Now I'm thoroughly disabled but thank goodness for The Trike. I can go into town as often as I like so I can do the shopping. Talk to the shopkeepers in the butchers, bakers and stalls in the market. I'm also known in the supermarket. Complete strangers will say hello and have a chat with me. People recognise me as the man on The Trike, thank goodness there is only one in town.
MS has given me The Trike
Riding around on it I do not feel disabled. As I whizz around the town young children look at me jealously and even adults say it looks like fun to ride. It is instantly recognisable so I'm only too happy to do the shopping because I know there will always be people who want to talk to me. What a wonderful way to improve my feeling of well-being.
I really enjoy cooking
My MS deteriorated consequently standing up to prepare food and cook was impossible. Then I remembered seeing in an MS magazine details of a Saddleback stool. It's on wheels and you can change the height very easily. Now I was king of the kitchen again.
Walk for one hour
You may remember I managed to walk for one hour at the Chilterns MS Therapy centre last September. The local community radio station, Tring radio, turned up to watch me and I had a brief interview. To cut a long story short now I am a volunteer and present a show every Thursday lunchtime. I have always had a secret desire be a presenter of a radio show. To me this is a dream come true.
In January 2012 medical retirement was a depressing future for me and no one was interested in my IT skills. I have now created a completely new life for myself. My MS has deteriorated more in the last 9 years than in the previous 40 years Its even more important to be positive as my MS makes me more and more disabled.
Associated articles
I have discovered sitting-down gardening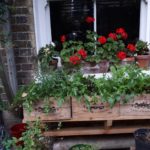 Variable height saddle stool to move around in the kitchen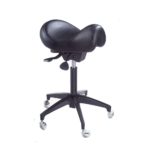 April 2021
4 responses to "My positive attitude despite MS disability"