Topro Troja Rollator
The Topro Troja Rollator is a robust and reliable 4 wheeled walker. It is recommended to many multiple sclerosis sufferers who do not find walking easy and have poor balance. I have advanced MS and suffer from both these problems. I love this rollator because it is well designed, light as well as robust. Also there are a wide range of add-ons available that make it indispensable.
Topro Troja Rollator
It is very easy to close up and open. It can stand on its wheels even when folded, this is a big plus. There is a seat to sit on when tired and an accessible basket for shopping. A tray with a non slip mat is also available.
Why buy one?
If your balance is not good and you have an unsteady walk (that's me) then think seriously about buying this rollator. In the house you can furniture walk, use the walls to bounce off and stop you falling over. I would not recommend this idea especially when you are outside or in shops.
Topro Troja Rollator
It is reliable and robust plus it is very stable, excellent design. Four wheels are always  better than three wheels especially if you have an unsteady walk. It requires very little space when folded so it is ideal for people who travel or where space is limited. It is very light and yet so easy to get ready for use. No sharp edges that could damage paintwork. Its a well designed piece of equipment
Did you know?
The rollator was  invented by the Swede Aina Wifalk in 1978, it is a frame on wheels wih a basket to carry things and a seat to sit on. A rollator is also known as a wheeled walker
Some of the features
The Topro Troja rollator has some very good features that make it stand out from the crowd. They are not all unique to Topro but when put together it makes it indispensable.
Typically Scandinavian in its construction
Very reliable brakes, they can be locked into place, essential when sitting on the seat for a rest
The basket can carry up to 10 Kg of shopping and there is a waterproof cover for the basket
A lever by both the back wheels. Just put either foot on one of them and front wheels lift off the ground. Ideal for getting up kerbs etc.
Very easy to close up and a clip to keep it closed. When closed it stays closed and can be wheeled and does not need to be carried
You can hose or steam to clean it
Wear and tear parts can be replaced
Adjustable brakes
This rollator glides along on solid rubber wheels, it a real pleasure to use. The high quality of the finish, ease of use and overall reliability is well worth the extra investment.
Buy a Topro Troja Rollator
now. You will not regret it
Customer comments
I have multiple sclerosis so stability is essential. I take it to the shops, go for walks along country paths. My advice is buy it.
I have MS and struggle with balance and fatigue, this is light and deceptively strong, a well made and thought out piece of kit
High quality product…and it looks good,
Related articles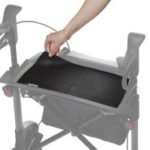 Essential Extras For The Topro Troja Rollator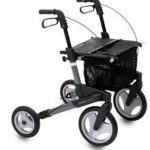 Topro Olympus rollator
July 2020