Trabasack Curved Lap Tray and Bag
Trabasack Curved LapTray and Bag is designed for use on a wheelchair. Its a new concept, beanbag lap tray that you carriy like a bag and use it on your lap whenever you need it. The tray inventor is a wheelchair user who fully understands what is necessary to make it useful. You could say it is fully inclusive.
Trabasack Curved Lap Tray and Bag
If you're looking for a new tray table for your wheelchair, lap table for eating meals or playing cards then look no further than a Trabasack curved lap tray and bag.
You can keep personal possessions inside such as ipads or books. The Trabasack has easy to use ring pull zips and quick release buckle. These features makes Trabasacks ergonomic design useful for everyone.
When going to a restaurant for a meal or drink you can use the tray and there is no need to fret about a suitable table. Keep the Trabasack attached and secure by using a waist strap, or use the specially designed side straps and attach it onto an armrest or frame. It is a small knapsack for wheelchair users.
Some other great features of a Trabasack Curve – Lap Tray Bag
include
Large ring-pull zips
Quick release buckles
This is a very useful item for those who use a wheelchair for mobility!
It's lightweight, comfortable, stable, easy to pick up and/or unzip.
It is easy to wipe clean,
The surface is firm not slippery,
The raised ridge keeps items/spills contained.
easy to access the controls of a power chair while using the tray.
Buy a Trabasack Curve – Lap Tray Bag
now
Other related articles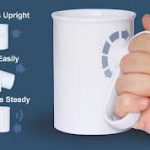 handSteady Mug
August 2018