Red Telescopic Anti-Shock Hiking Walking Stick
This is a simple and sturdy Red Telescopic Anti-Shock Hiking Walking Stick. It is telescopic so you can also use it as a walking pole. It has a non slip handle that means it is easy to hold it as a walking stick. There is strap that you can put round your wrist so you cannot drop it or leave it behind. The latter is a favourite trick of mine.
A big advantage
This is a walking aid stick that doesn't look like it's from the NHS. The handle design is helpful if you have arthritis or a weak grip. Another big plus is that you can vary the length so you can adjust it to the correct length.
At its shortest it is 65 cm, short enough to fit into almost any case. At its longest it is 135 cm so you can use it as a walking pole rather than a walking stick. The weight is 280 gm or 10 oz so it is not at all heavy.
Red Telescopic Anti-Shock Hiking Walking Stick
There is an anti-shock mechanism that you can turn on or off. The main advantage of anti-shock poles is that they tend to be less jolting on the joints such as the elbow and knees especially when going down a steep slope. The length should be adjusted for the terrain and whether you are going uphill or down hill. I cannot walk more than 1 km none the less some people might find this information helpful so click HERE
Use it on the pavements as well
There is a metal tip that has a rubber cap that you can use when you are walking on the pavement. The pole is supplied with a rubber collar to stop it from sinking into soft ground, this is easy to remove.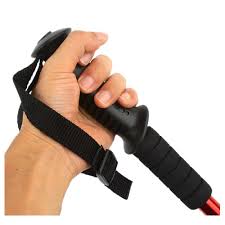 I would recommend getting a stick like this if you need help with your balance when walking.  This is one of the cheaper solutions but it answers all the questions for me.  Read my blog 'Length of a walking stick' to determine the correct length for a walking stick.
Customer comments
Perfectly good telescopic walking pole at an economy price. Being red. it's easier to see when you drop it in the grass
Excellent walking stick/pole, the handle certainly helps absorb the strain while walking.
January 2017