Methods I use to manage my multiple sclerosis
Multiple sclerosis is a very unpredictable disease and tough to live with. I think we all know that; I certainly do. MS has now been a part of my life since 1972 but I was not diagnosed until 1995. Here some methods I use to manage my advanced multiple sclerosis. Everyone has their own way of giving themselves as good a quality of life as possible.
Is MS a series of challenges?
It is not easy for me these days. I'm medically retired, I cannot walk unaided, have difficulty walking upstairs and I just run out of steam. Yes I have a whole host of problems, it's like two or three elephants in the room and over half a dozen parrots on my shoulder. Each one is different bit of my MS and each one is a challenge.
"You can't do up the buttons of the shirt" shouts one.
"If you think you can drive a car forget it because I gave you double vision" squawks another.
"So you thought you could dig a hole in the garden and plant that shrub" whispers a parrot on my left shoulder
Unimaginable problems
My life is now full of lots of different complex problems. Over time I have developed ways to overcome each challenge, call it symptom management. It started off with the occasional face plant or a quick pit stop at the nearest loo. Gradually they have taken over my entire life. Never improving just becoming more numerous. So I have to find a work-around for each of them. The whole thing rather reminds me of an old schoolboy joke.
Question: How do you eat an elephant?
Answer: One bite at a time.
Methods I use to manage my multiple sclerosis
I don't do 'Monty Don' gardening instead I have a number of raised beds and pots that I can look after when sitting down.
In the kitchen I have stumbled across an enormous array of gadgets that make my life easier. I can't 'wing it' when cooking a meal, instead I have to plan things out in advance.
Technology
The greatest help to me is technology. The timer on the cooker is essential. Life without a mobile phone would be very different. I can buy so many different items online even though I do not really approve of it.
Moving target
Multiple sclerosis does not stand still for me. All the time there are little changes, adjustments that I make subconsciously. The disease is always moving forwards. Just as I reach a 'status quo' I realise that a little adjustment has now become an integral part of my life. I still remember when I realised that I could not slide elegantly into the passenger seat of a car feet first. In stead it had to be bottom first and then lift my left leg as an afterthought. That was over ten years ago and I am still learning new techniques to live with Multiple Sclerosis. It is different for everyone but I'm sure we can all learn from each other. Do you have any really useful tips that you would like to share?
Associated posts
Look forward and not look back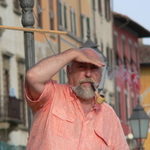 .
.
.
.
.
.
.
.
.
.
.
June 2019
2 responses to "Methods I use to manage my multiple sclerosis"