Kymco Mini Comfort Compact Mobility Scooter
I hired a Kymco Mini Comfort mobility scooter while my wonderful Travelscoot has some essential maintenance in Germany. Wow, what a difference. Riding each one is very different and calls for different skills. The Kymco Mini Comfort Compact Mobility Scooter is a centurion tank of small compact mobility scooters.
Do I need a disabled label?
As soon as I sit on the seat I immediately imagine the label disabled person appearing on my forehead. My immediate feelings are: I am conspicuous, possibly a rookie and I'm definitely a disabled person. It's a clunky chunky mobility scooter. Everything visible is plastic and looks brittle.
There is a lever that I pull towards the steering column to make it move forwards or backwards. As soon as I take my finger off the lever the brakes are applied and it stops quite rapidly. There is a knob, also on the steering column, that controls maximum speed. When I reverse there is a loud repeated bleeping sound.
Turning circle
It has a 3 metre turning circle; there aren't many pavements that wide. I have taken it into the shops where there is not enough space to turn it around. The solution is simple. I must very carefully navigate my way out backwards; meanwhile the bleeping sound warns everyone their ankles are in danger The scooter is okay in shops with wide aisles such as supermarkets. We won't discuss the weight or putting it into a car except it's not good news.
Some good points
Its narrow and will pass through the average door but it cannot be used inside the house. I would not risk taking it onto a bus in our local area. I did take it onto a commuter train using the disability ramps but parking it into an accessible spot was very difficult.
A clunky chunky mobility scooter
It must be obvious that I cannot find much to commend.  It is certainly stable, 4 wheels with a very low centre of gravity. No chance of a wheely or handbrake turn. Its designed for someone who wants to feel safe and secure.
Compared to a Travelscoot
A Kymco Mini Comfort mobility scooter is definitely a second class citizen. It is very stable but any other requirements of disabled people were discarded or ignored. There is a small plastic basket hooked onto the steering column which is almost impossible to reach. Where do I store a walking stick?
Return of the Kymco
My nifty elegant Travelscoot mobility scooter is back in our house. The clunky chunky Kymco mobility scooter has left the house for good.
My expectations of a mobility scooter to use around town have been spoilt by the Travelscoot. It does have a high centre of gravity so corners and rough pavements must be negotiated with care. On the other hand it is fun to ride, beautifully designed, and does not label me as a disabled person.
I'm definitely a Travelscoot fan after using a Kymco Mini Comfort mobility scooter for a month.
Associated articles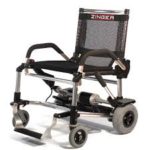 Zinger battery powered lightweight wheelchair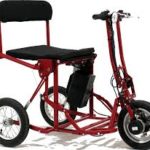 Di Blasi R30 Folding Mobility Scooter
July 2021
5 responses to "Kymco Mini Comfort Compact Mobility Scooter"