Diagnosed with MS And You Drive A Car
If you are diagnosed with MS (multiple sclerosis) and you drive a car then here is some good news.
There are one or two hoops that you must now jump through when you get the diagnosis.
You must tell the Driver and Vehicle Licensing Agency (DVLA) that you have been diagnosed with MS. Also the car insurance company need to know.
Diagnosed with MS and you drive a car
They DVLA assess your driving ability using the information you provide. They may well ask you to have a medical examination or assess your driving meanwhile you can continue driving. You'll usually get a decision within 6 weeks or you'll get a letter from DVLA if it is taking longer. There are 4 possible outcomes.
The best news; you can keep your licence and there is no change to your circumstances.
Not quite so good; you can continue to drive but you must renew your licence every 1, 2 or 3 years – with a review at the end of that period.
This could be an inconvenience; you need to adapt your car by fitting special controls, talk to Motability.
This is not what you want to hear; you must stop driving and give up your licence. They will tell you how you can appeal against the decision
If you are given a short period driving licence then when you reapply you must check with your doctor if you are fit to continue driving. I should imagine that your doctor will contact your MS consultant.
Remember the Motability scheme
If you receive the full mobility allowance in your disability living allowance (DLA) then Motability scheme could adapt your vehicle to meet any disabilities.
You can be fined up to £1000
It s bad news if you don't tell the DVLA about a medical condition that affects your driving. You may be prosecuted if you're involved in an accident as a result.
OK so you are still allowed to drive
Don't forget, you must tell your car insurance company as soon as you are diagnosed.
Losing you Driving Licence
Stop and think for a moment. This can be a disaster in more ways than one. If you are a car owner then think how your life will change if you have to throw away the keys.
I have double vision and my licence has been taken away. I have now lost the bottle to drive if I were to be given the chance to start again. None the less I am lucky in other ways.
There is a train service to London every 15 minutes and the station is a 5 minute ride on my mobility scooter.
My wife will drive me to places I need to access by bus.
I have an excellent mobility scooter  all the shops are within half a mile of the house.
Get 33% off all train tickets with a Disabled Persons Railcard
Travel by bus for free using a bus pass concession card
A lift was installed at the train station in our town so now it is fully accessible
I will admit to a lucky break
We moved to a house in the middle of town so we could stop being a taxi service for our children. I was not disabled by Multiple Sclerosis until several years after we had moved here.
If you do receive a diagnosis for multiple then please look at the implications if you drive a car. There are solutions.
Related articles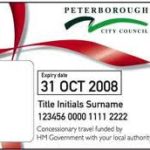 Concessionary Bus Pass for Travel
4 responses to "Diagnosed with MS And You Drive A Car"