Paralympic Games legacy
Almost 9 out of 10 sports clubs saw no change in the number of people with disabilities joining their ranks after the London Games.
Paralympic Games legacy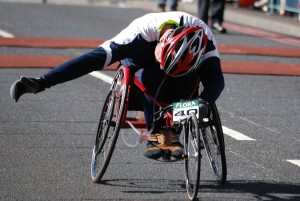 The Sport and Recreation alliance have discovered that
86% of clubs said they had noticed no change in the number of enquiries they had received from people with disabilities wanting to take part.
96% reported no change in the number of people with disabilities volunteering at their clubs.
Only one in four clubs (24%) said they had suitable facilities for people with disabilities to participate, suitably trained staff and the appropriate equipment to deliver this, indicating that three quarters of clubs need some form of additional support in order to facilitate disabled participation.
Meanwhile Paralympic sport has received a dramatic increase in funding for Rio 2016 following the success of British athletes at London 2012.
Are sports inclusive?
Sports are now encouraged to develop participation programmes in an inclusive way, making them accessible for disabled participants, with 40 out of 46 sports governing bodies signing up to that ambition. Sports that have not signed up to that commitment, such as boxing, wrestling and taekwondo, will soon be asked how they intend to help attract more disabled people.
It seems as if that the publicity to get the disabled person to the sports centres failed. Is it difficult to find sports clubs that can cater to your needs. Internet and Facebook and Twitter make it easier to find clubs that can help you or simplify getting advice from people.
Why not?
Could it be the lack of advertising about getting fit and helping with disability?  Maybe people are put off because they see elite sportspeople at the top of their game. Not everyone able-bodied or disabled is going to be an elite sportsperson?
Disabled sport is in the public eye. Now is the time for you to get out there. For the legacy to be a success disabled people need to be involved in sport as a recreational activity. Even if it is not a sport any form of recreation and interaction with other people is good.
My own view
From a personal point of view I don't think I can get involved, MS is a progressive disease. I suffer fatigue because of MS. Instead I'm thinking of starting Yoga and go forward from there. I found this sports link through Twitter. If you are interested in physical activity then this website could help you.
Tell me, are you disabled and do you do a sport or exercise? Ramblering, organised sports, what ever it is write in and tell me