Sending my TravelScoot back to Germany
I have an electrical fault with my TravelScoot and it is unusable. I reported the problem to the English office who told me to return it to Munich, the head office, for essential maintenance. Sending my TravelScoot back to Germany was fraught with problems.
First things first
I had to find a supplier of a stout cardboard box, we threw the original one away; no storage space. The scooter was folded up, handle bars unplugged and the front wheel removed. I phoned up the company and gave them the dimensions and 24 hours later my wife collected the box which cost just over £15.
Packing it up
I found the original green canvas holdall and put the scooter into it. My wife and I taped up the bottom of the box and put in the scooter. Next we filled it with bubble-wrap et cetera and then taped up the box. So far so good.
Friendly neighbour
My next-door neighbour regularly uses DHL to ship items all over the world. He promised to help me arrange shipping of the box to Germany. Typically its a simple job and would take him no more than 15 minutes. It eventually took both of us one whole day, I could not have coped without his knowledge and experience.
Eventually an email arrived
Eventually the all important email arrived, now I could print the necessary documentation. DHL collected the parcel together with the relevant paperwork. The shipping charges were £235.41. We had jumped through all the DHL & Brexit hoops. I do not have a DHL account so I cannot track the package 🙁 Why make everything so difficult?
Sending my TravelScoot to Germany
By the time DHL collected my parcel I was totally stressed-out. DHL did not cover themselves in glory but there were technical issues. TravelScoot England was set up because of the problems importing and exporting items because of Brexit. They did not offer me any help or advice when returning a scooter for repair. The complexity of sending a parcel to Europe using a carrier is mind-boggling if you are a novice.
Useful advice?
The only help I received was from the German office who told me to tape labels all over the box saying 'MAINTENANCE ONLY' so I would not have to pay any import or export duty. TravelScoot did not offer me any other advice or help.
Angry and cross
After DHL collected the parcel I immediately called TravelScoot UK and expressed my anger and frustration at sending my Travelscoot to Germany. I am reasonably computer literate but I struggled. I'm sure many other people would have given up in frustration and vent their anger through social media.
What next?
I must await the cost of the essential maintenance to my TravelScoot. Will it be covered under warranty, I doubt it? TravelScoot must smarten up their act and make it much easier to send a precious mobility scooter back to Germany for maintenance.
TravelScoot should be totally responsible for shipping the scooter from a customer to Germany and back afterwards. I love my TravelScoot but my love for the company is now a little tarnished.
Associated articles
I will always love my Travelscoot mobility scooter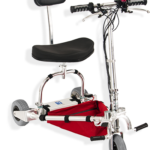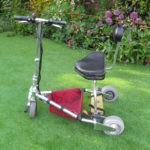 My New Travelscoot
June 2021
16 responses to "Sending my TravelScoot back to Germany"